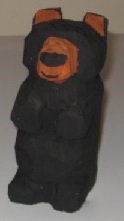 Bear standing chainsaw Sculpture, 24 inch chainsaw carved bear, carved by Canadian artist
$248.48
Details
The 24 inch carving was roughed out using a chainsaw and power tools and completed with traditional hand tools. The piece is wood burned then a clear finish is applied.

The size is approximate as each piece is an original work of art so size and appearance will vary.

We have our carvings all over the world.

Custom carvings are available.

Contact us for a quote.

FREE SHIPPING

Custom made with 1-2 weeks shipping from Canada

No returns or exchanges.